MASTER ROBOTICS ENGINEERS LEGO ROBOTICS CODING SCHOOL HOLIDAY WORKSHOP MAY - JUNE 2018
Add more fun activities to this May - June 2018 school holiday at WondersWork Singapore where kids will build their own LEGO Robotics. They will develop creativity, inventive and critical thinking, and learn science, technology, engineering, art, mathematics (STEAM). Let your child become a Lego Robotics Engineer today!
FOR AGE 5 to 13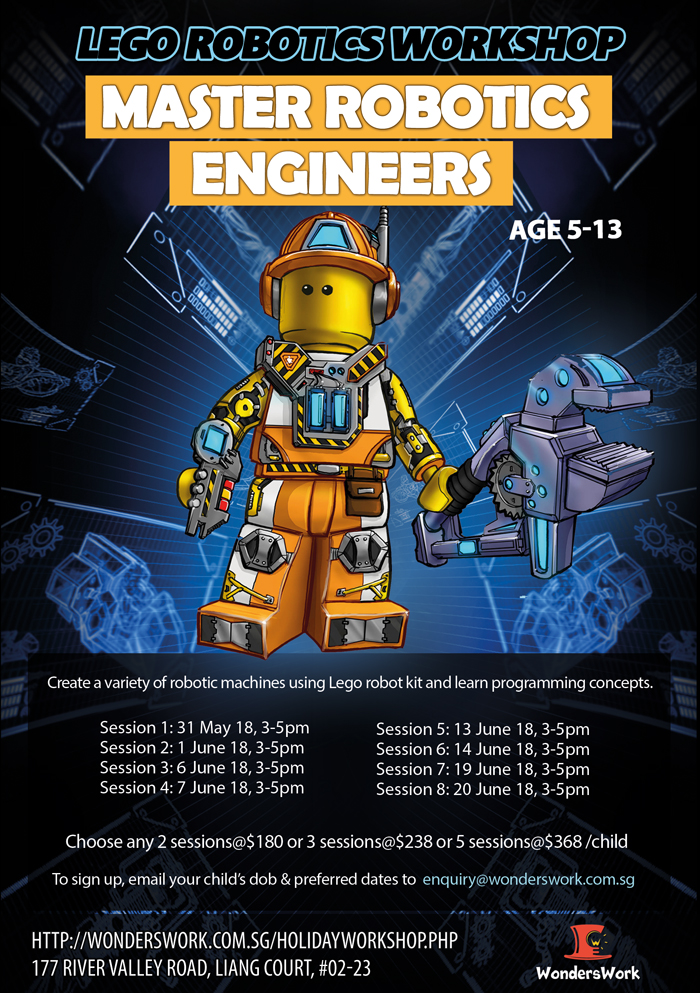 * Close guidance from teacher as we provide low Teacher-Student ratio at 1 teacher to 4-6 students only.
* 1 to 1 robot kit and computer.
* All materials, robot kits, notebooks and other equipments will be provided by us.
* Due to high cost of Lego Robot Kits with software for programming use for this workshop, participants will not be able to bring back the robots.
* Past participants are welcome.
* Certificate & Meal will not be provided.

To sign up, To sign up, Click here to fill up registration form or email us at enquiry@wonderswork.com.sg with your child's DOB so we can advise on vacancy thank you.
* Registration closes at least 3 days in advance prior to session, subject to availability *

We also have Mega Robotics Pokemon Avengers Minecraft Lego Robotics Scratch Coding Camp, Intelligent Robotics Lego Robotics Coding Camp, and Space Invention Camp
Check out our holiday Workshop video